Sound Wave Music Festival: 20 Funky Dance Moves in Animated GIF Form
"Who's ready to jump?"
If you've ever attended an electronic dance music event anytime in the last few years, its incredibly likely you've heard the frequently used audio drop -- sampled from Dutch house producer Chuckie biggest track -- that asks this question and typically causes a crowd explode with movement.
It was used more than a few times at this past weekend's Sound Wave Music Festival and certainly got the event's attendees bouncing around like mad. They did more than jumping, however, and also pranced, pounded the ground, and busted out with some rather...um, unique action while DJs like Calvin Harris, Designer Drugs, and Crizzly performed.
We captured plenty of weird and wild behavior with our cameras and have put together 20 different animated GIFs of all the some of the more interesting, unusual, and downright funny dance moves.
See also: Sound Wave Music Festival/Red Bull Thre3style Massive at Big Surf
See also: Sound Wave Music Festival/Red Bull Thre3style Massive (Slideshow)
See also: People of Sound Wave Music Festival at Big Surf (Slideshow)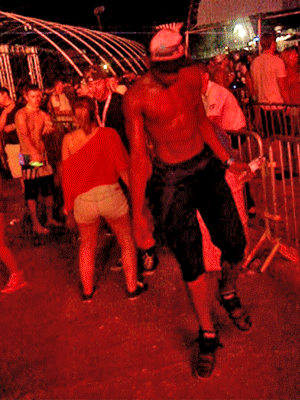 The Tornado Two-Step:
This dude spun us right round, baby, right round (like a record, right round, round, round) with his fancy footwork at the Thre3style stage.
The Camera Mugger:
He's fully aware of the camera in our hands and decides its his time to shine. The goofy expression, finger pointing, and leg pumps all get extra points in our book.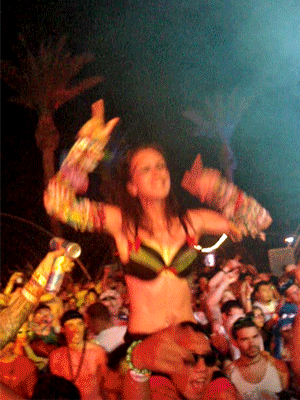 The Shoulder Holder:
When your boyfriend or BFF is willing to become a beast of burden for your dancing shenanigans.
The LED Glove Lightstorm:
For those ravers who want the action and color of a dance party all up in their grill while busting a mean groove. (Rolling balls is optional.)
<!­­-- YieldMo Tag­­-->