13 Animated GIFs from Phoenix Annual Parade of the Arts 2013
Photo and GIFs by Benjamin Leatherman
The Phoenix Annual Parade of the Arts rolls through the streets of downtown on Saturday night.

Guests of the Sheraton Phoenix Downtown Hotel -- not to mention the patrons of the Arizona Center and the residents of a few apartments building along Third Street -- got a bit of unexpected entertainment this past Saturday evening.

The uproarious Phoenix Annual Parade of the Arts rolled past each of the locations just after sundown and brought with it plenty of revelry in the form of the Village Blasting Club marching band and a number of funky floats and costumed participants, as well as the megaphone-wielding Dr. Reverend Stephen Strange leading the colorful cavalcade.

See also: Phoenix Annual Parade of the Arts 2013 (slideshow)

"Good evening guests of the hotel! This is the Phoenix Annual Parade of the Arts," Strange shouted out of his megaphone. "Thank you for coming out and checking us out. Hope you like the music!"

We're guessing that they must have, considering that we witnessed a few hotel guests clapping their hands and bopping along a little bit with the marching band's jaunty tunes while staring at the parade from their windows or along the sidewalk.
The Dr. Reverend Stephen Strange leads the parade while atop his "steed."
It wasn't the only movement to be seen, as parade participants strutted and danced as they followed Strange, who dressed as a cowboy and rode on a modified bicycle decorated with a plastic horse in honor of the event's "Weird, Wild West" theme along the three-mile route from the A.R.T.S. Market down to Monroe Street and back.
And there was also a variety of dance moves taking place at the A.R.T.S. Market before the parade, thanks to the local and visiting troupes of belly dancers, jugglers like Chase Archer, the members of the Heady Hoop Tribe, and other performances artists doing their thing on the adjacent outdoor stage at Bodega 420.
We got a bunch of footage and clips of some of the activity from both the parade itself and the pre-parade entertainment, all of which has been transformed into 13 different animated GIFs for your enjoyment.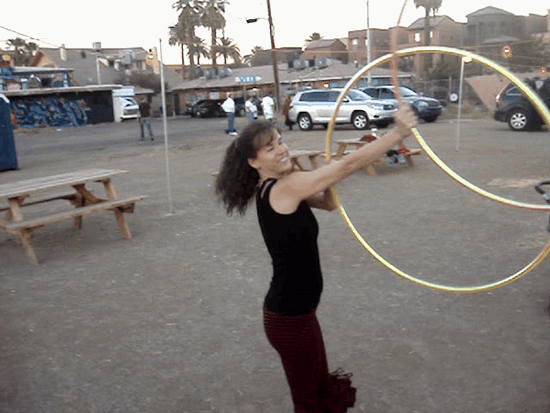 Spin Session
You spin us right round, baby/Right round/Like a record, baby/Right round round round.

Location Info
408 E. Roosevelt St., Phoenix, AZ
Category: General
340 N. Third St., Phoenix, AZ
Category: General
<!­­-- YieldMo Tag­­-->