Seven Animated GIFs of Rowdy WWE Fans at Royal Rumble

Aficionados of the WWE can be a rather boisterous and passionate bunch. Especially the 16,000-plus screaming and cheering wrestling fans who sold out the US Airways Center and packed the place to its rafters when the WWE held its annual Royal Rumble last night. Besides becoming unhinged when John Cena won the 30-man Rumble itself, they went absolutely batty when superstar-turned-movie star The Rock defeated CM Punk to win his eighth WWE championship.
Fans also got plenty rowdy before and after the event, and we happened to capture some of the madness on camera for our Royal Rumble slideshow, as well as for several humorous animated GIFs for your enjoyment.
See Also:
- WWE Royal Rumble at US Airways Center, 1/27/13 (Slideshow)
- WWE's Money in the Bank: A Visual Study of Phoenix's Die-Hard Wrestling Fans
- WWE Superstar Antonio Cesaro on Ugly Americans, Being the United States Champion, and Why He's Tired of Being Called Eurotrash
- WWE Superstar Cody Rhodes on His Killer Mustache, Ribbing Damien Sandow, and Which Legendary Tag Team He'd Love to Battle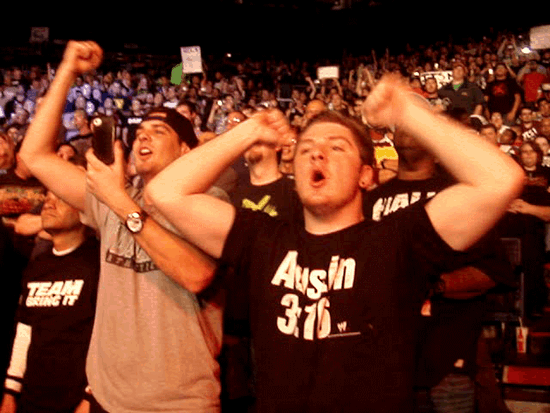 Rocky Rules
The sellout US Airways Center crowd was pretty evenly divided into two camps during the main event of the Royal Rumble last night's event: Those that cheered on CM Punk (and screamed "Die Rocky Die") and those supporting The Rock. This particular fellow, who's obviously a fan of the WWE's vaunted "Attitude Era" due to his Austin 3:16 shirt, fell into the latter group, as he spent most of the match screaming "Ro-Cky! Ro-Cky!"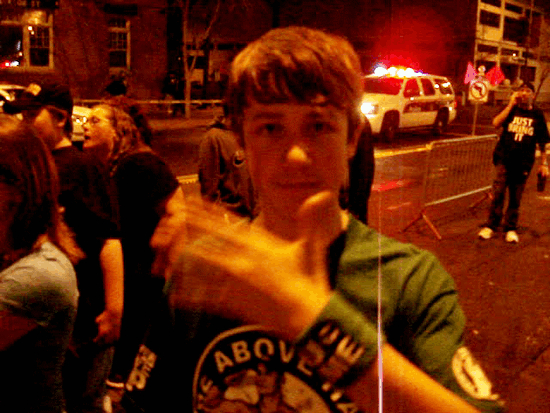 You Can't See Me
It was a big night for John Cena as the super-polarizing WWE Superstar -- who earns a multitude of cheers and jeers alike -- beat out 29 others to win the Royal Rumble and earn a title shot against The Rock at WrestleMania 29 in April. We encountered this teenaged member of the Cenation outside the arena celebrating the big win and unleashing his hero's signature taunt.

Location Info
201 E. Jefferson St., Phoenix, AZ
Category: Music
<!­­-- YieldMo Tag­­-->